Name: SMIZYME TS Phytase

Product category: Phytase, Thermostable Granular


Specification: Activity ≥ 5,000U/g, ≥ 10,000U/g
Shelf life:24 months
Characteristics:
1. Specially used in pellet feed.
2. Can resist the high pelleting temperature up to 95℃, excellent stability of phytase activity
3. Higher biological efficiency.
4. Bring confidence in quality and long-term profit to the customers

Mechanism
1. Improved Thermo Stability with Site-directed Gene Mutagenesis Technique
Using rational evolutionary design, thermo stability was improved through transformation of protein structure induced by changes of certain amino acid residues of polypeptide chain in protein with site-directed gene mutagenesis technique. Phytase with highly enhanced thermo stability was obtained via a large quantity of screening of mutant gene expressed in Pichia Pastoris.
2. Molecular Immobilization Technique
Much stronger enzyme conformation, which prevents transformation from folding state to unfolding state, consequently increases thermo stability of phytase molecular. Additionally, it can resist degradation of proteases and autolysis of enzyme so as to increase stability of phytase in animal body.

Stability in Pellet Feed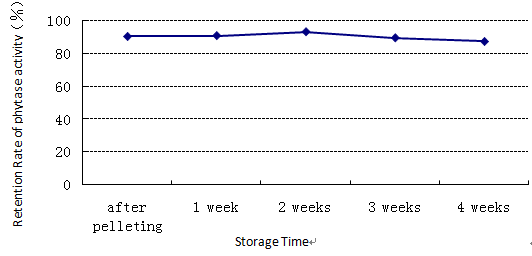 Specification: Activity: ≥5,000u/g, ≥10,000U/g, granular

Dosage (g/T complete feed)

| | | |
| --- | --- | --- |
| Pelleting Temperature (°C) | 5,000 U/g | 10,000 U/g |
| 70~80 | 100-105 | 50-52.5 |
| 80~90 | 105-110 | 52.5-55 |
| 90-95 | 110-120 | 55-60 |
1. Please balance calcium with calcium source after decreasing the amount of DCP or MCP in feed.
2. Please dilute phytase with other feed ingredients before mixing.
3. Dosage can be regulated according to the animal species, feed ingredient, pelleting temperature and the ring-die height.

Storage: Kept in dry, cool, ventilated place away from heat and direct sunlight.
Shelf time: 24 months below 20℃, in unopened package

You are here:> Home>Products